Hair gummies vitamins for fortified hair, glowing skin, and robust nails
Hair revitalization
Enhances skin glow
Fortifies nails
Regular price
Sale price
$22.89
Unit price
per
Sale
Sold out
View full details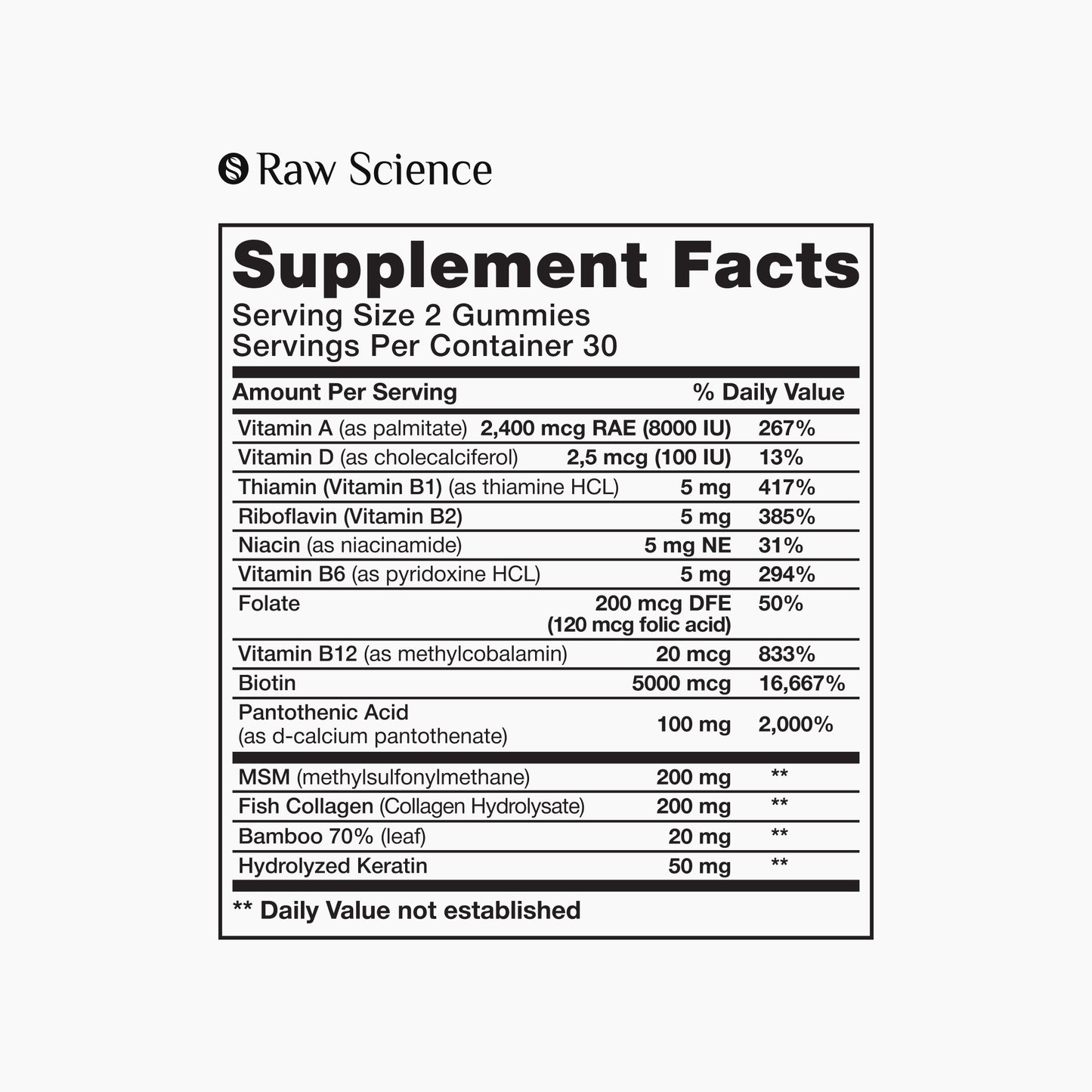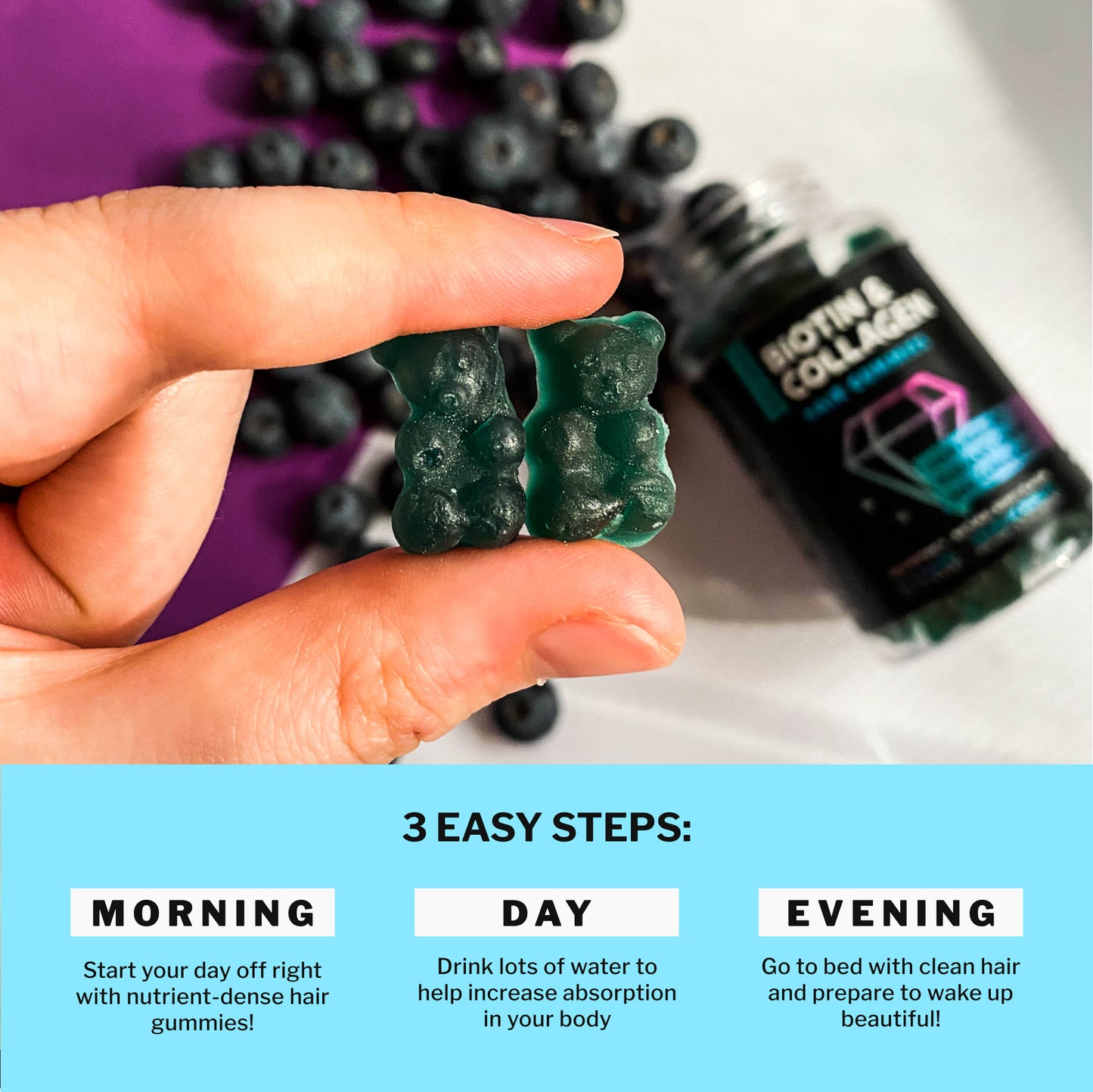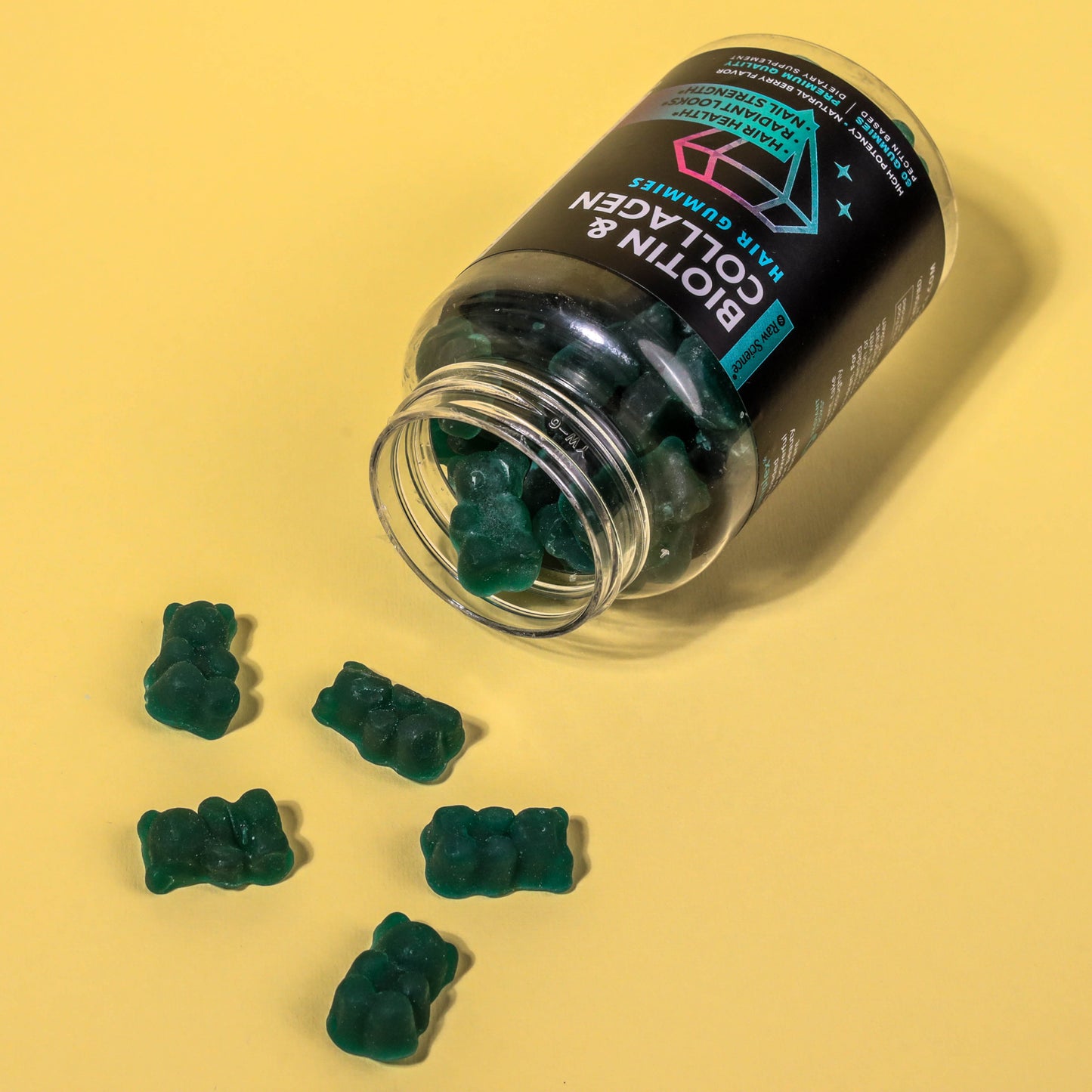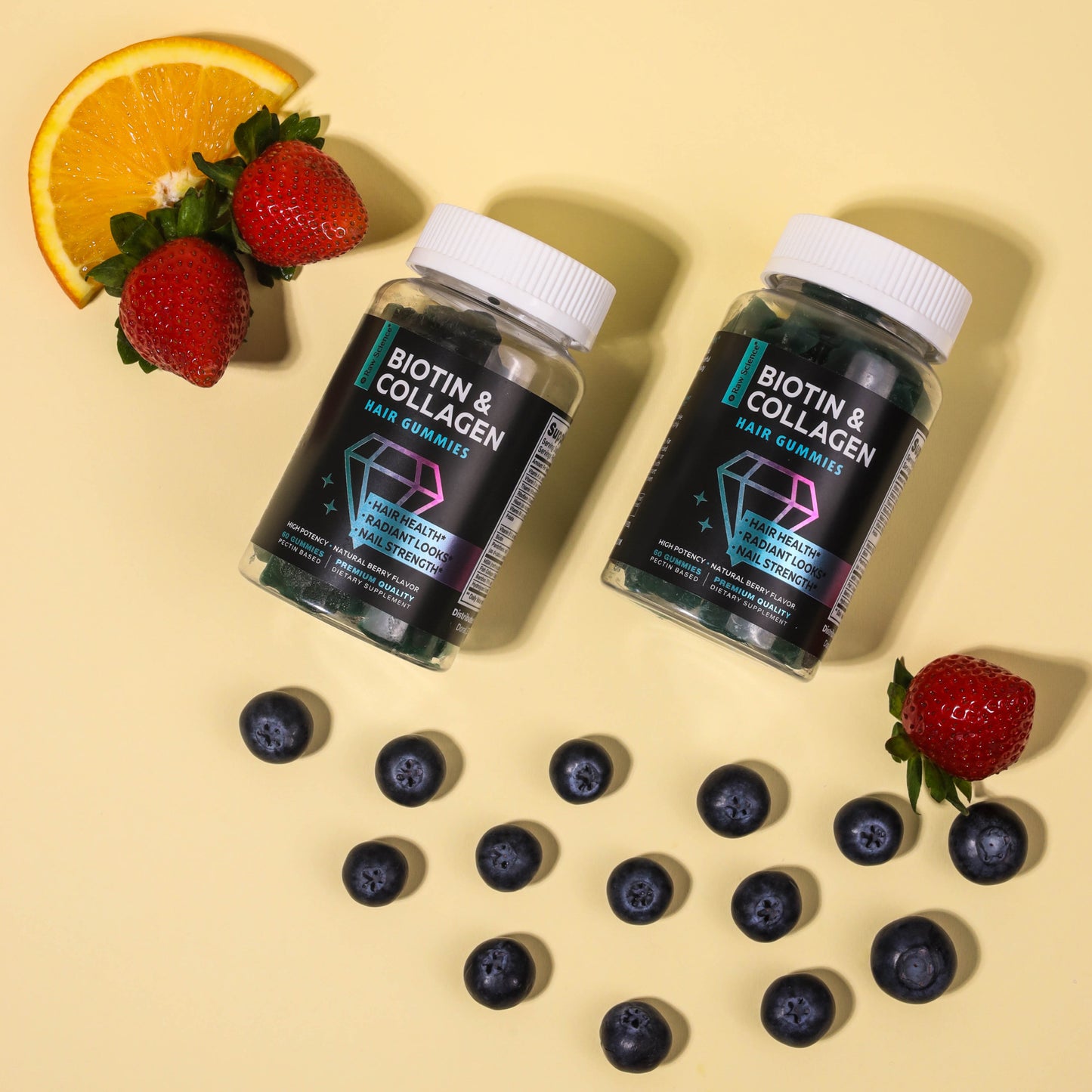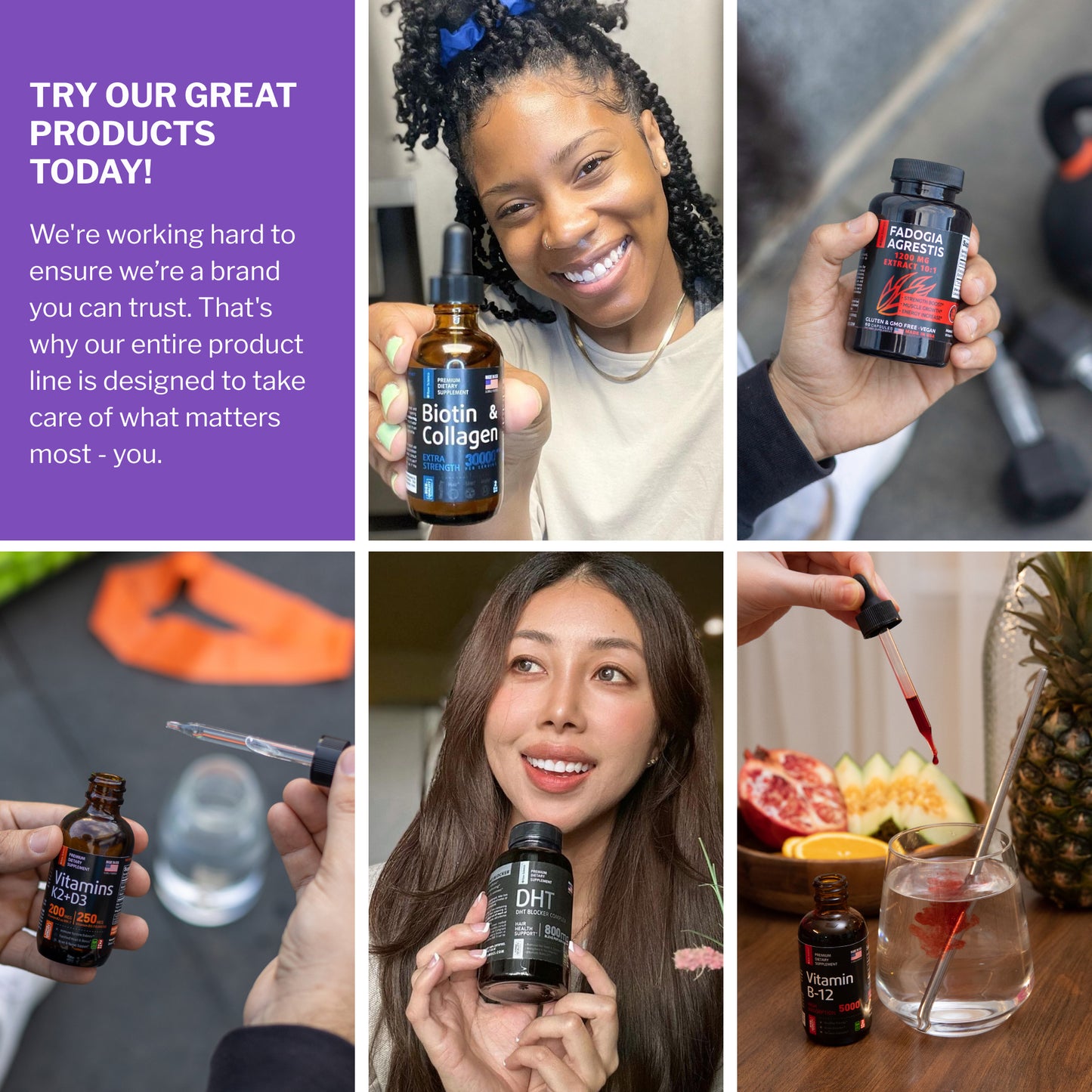 Best time to take
Take with meals for the best result.
Price per day serving
$0.76 per day serving
Supplement Facts
| | |
| --- | --- |
| Active Ingredients | Vitamin A - 8000 IU, Vitamin D - 100 IU, Thiamin - 5 mg, Riboflavin - 5 mg, Niacin - 5 mg, Vitamin B6 - 5 mg, Folate - 200 mcg, Vitamin B12 - 20 mcg, Biotin - 5000 mcg, Pantothenic Acid - 100 mg, MSM - 200 mg, Fish Collagen - 200 mg, Bamboo leaf 70% - 20 mg, Hydrolyzed Keratin - 50 mg |
| Type | Vitamins & Supplements |
| Form | Gummy |
| Flavor | Berry |
| Color | Blue |
| Size | 60 count |
| Special Diet | Gluten-Free |
Vitamin A is fundamental for maintaining the integrity and nourishment of hair and skin.
Vitamin D in this blend contributes to skin health by promoting cellular growth.
Biotin is key in maintaining hair health and promoting radiant skin.
MSM in the formula is known for its production of collagen and keratin, which are crucial for hair and skin health.
Fish Collagen in this formulation supports skin elasticity, aids in maintaining the strength of hair and nails.
Bamboo Leaf Extract in this formula is rich in silica, known for promoting hair and nail strength and enhancing skin health through collagen production.
Hydrolyzed Keratin may improve hair's texture and resilience, enhance the skin's firmness, and contribute to nails' strength.
Vitamin B Complex in this blend contributes to skin and hair health and supports the nervous system's proper functioning.
Experience the power of hair gummies
Unleash the potential of your beauty routine with a scientifically designed blend of essential nutrients. These hair vitamins gummies offer a targeted approach to hair health, radiant looks, and nail strength. The meticulously selected ingredients support your hair's vitality, promote skin glow, and reinforce nail resilience.
Raw Science User Reviews
FAQ
Are Raw Science Hair Gummy Vitamins appropriate for all hair types?
Yes, Hair Gummy Vitamins are suitable for all hair types as they nourish hair from within and promote overall hair health.
How quickly can I expect to see results?
Results vary between individuals, but generally, noticeable improvements may be seen after 3-6 weeks of consistent use.
What are the potential effects if I stop use of the product?
You can stop taking the supplements whenever you wish. However, we cannot guarantee that the achieved results will remain if you stop using the product.
Does this product contain any allergic ingredients?
Contains fish source of collagen petides, so people with allergy should be careful.
How many servings in a bottle, or how long does it last?
There are 30 servings/doses per bottle (one serving per day) so the bottle will last 30 days.
At Raw Science we believe that nature can be both gracious and cruel to a human body. Through the means of cutting edge science and research we deliver the best the nature...
Raw Science runs an educational Youtube channel where certified dermatologists and nutritionists cover various topics on your health and beauty.