Support for digestion and nutrient assimilation with digestive enzymes with papaya.
Enhanced digestion
Nutrient absorption
Energy increase
Regular price
Sale price
$18.95
Unit price
per
Sale
Sold out
View full details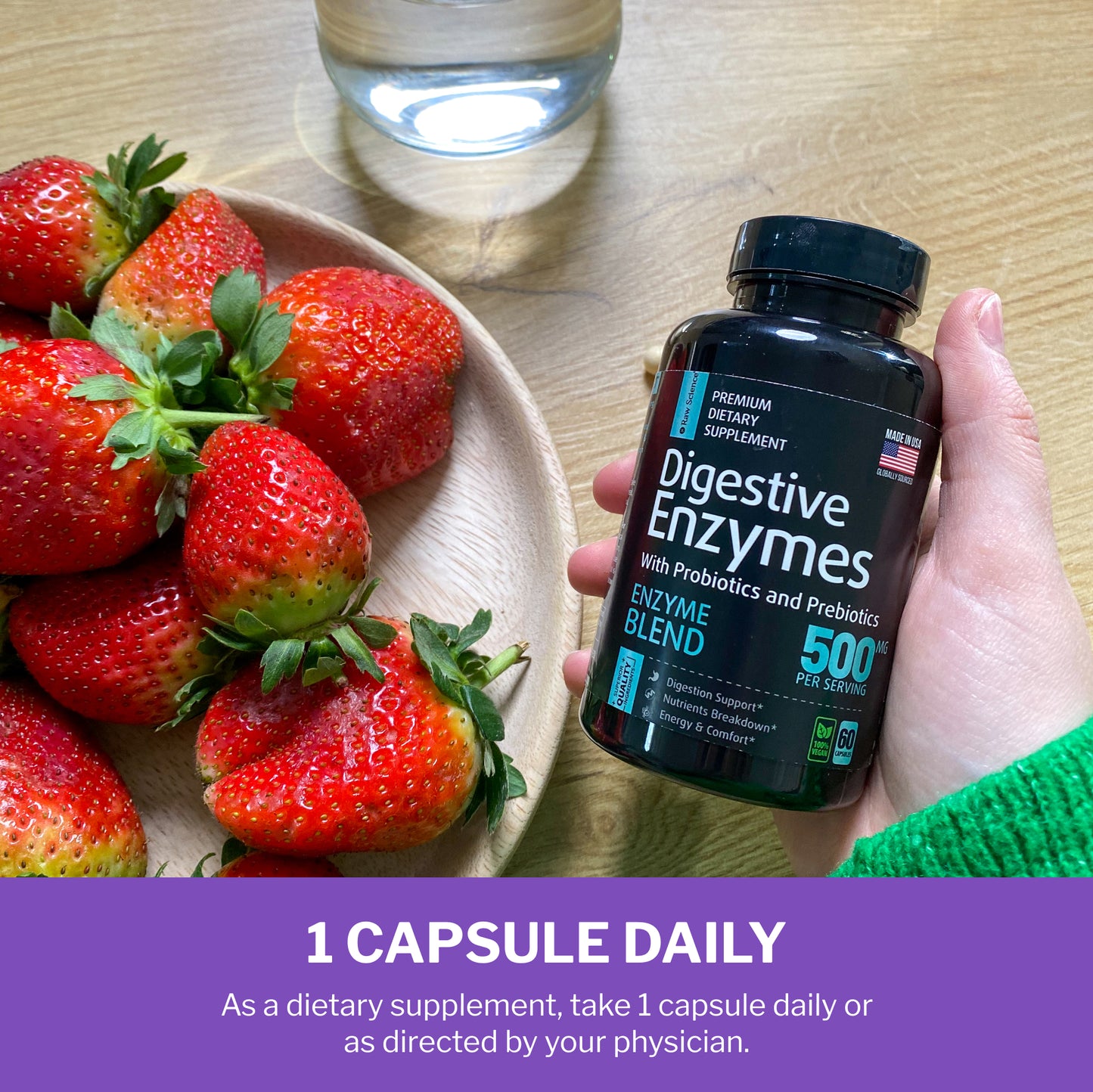 Price per day serving
$0.31 per day serving
Supplement Facts
| | |
| --- | --- |
| Active Ingredients | Makzyme-ProTM Enzyme Blend - 2500 HUT/400mg (Fungal Protease from Aspergillus oryzae, Lactobacillus acidophilus, Lactobacillus casei, Lactobacillus plantarum), Bromelain - 90 GDU, Papain - 2670 TU, Fungal Lipase - 1500 FIP, Fungal Lactase - 600 LACU, Alpha Galactosidase - 300 GALU |
| Type | Vitamins & Supplements |
| Form | Capsule |
| Flavor | Unflavored |
| Color | Neutral |
| Size | 60 count |
| Special Diet | Cruelty-Free |
Makzyme-Pro Enzyme Blend supports optimal digestion, enhancing nutrient absorption and reducing digestive discomfort.
Bromelain, derived from pineapple stems, aids in digestion and can help reduce inflammation, promoting overall gut health.
Papain, a potent enzyme from papaya, supports digestion, breaks down proteins, and fosters a healthy gut environment.
Fungal Lipase aids in the breakdown of dietary fats, promoting efficient digestion and nutrient absorption in the gut.
Fungal Lactase facilitates the breakdown of lactose, helping to ease digestion and reduce discomfort for those with lactose intolerance.
Alpha Galactosidase 300 GALU
Alpha Galactosidase aids in breaking down complex carbohydrates, potentially reducing gas and bloating after meals.
Papaya digestive enzymes unveiled
Experience enhanced digestion, efficient nutrient breakdown,and improved energy levels with our blend. A harmony of enzymes, probiotics and prebiotics, helping you maintain digestive comfort and overall well-being.
Raw Science User Reviews
FAQ
Are probiotics from the product lactose free?
Lactobacillus is a term that signifies the capability of these bacteria to produce lactic acid or their preference for acidic environments. Contrary to a common misconception, the prefix Lacto does not imply a connection to lactose or dairy products. Although lactose can sometimes be employed in the culture medium to nurture the growth of the probiotic, it is entirely eliminated from the final product.
Can Raw Science's Digestive Enzymes mix with the drinks or food?
The product is formulated as a capsule supplement, which is typically designed to be swallowed with water. While opening the capsules and mixing the contents with food or beverages might be physically possible, It's best to use the product as directed.
Does the product need to be refrigerated?
Refrigeration is not strictly necessary, but it could help extend the product's shelf life, especially in warmer climates or hotter months.
How many servings in a bottle, or how long does it last?
There are 60 servings/doses per bottle (1 capsule twice a day) so the bottle will last 30 days.
At Raw Science we believe that nature can be both gracious and cruel to a human body. Through the means of cutting edge science and research we deliver the best the nature...
Raw Science runs an educational Youtube channel where certified dermatologists and nutritionists cover various topics on your health and beauty.