Enhanced Moisture, Nutrient-Rich Formula for Age-Defiant Men's Facial Skin.
Deep hydration
Nutrient infusion
Fights aging signs
Regular price
Sale price
$22.95
Unit price
per
Sale
Sold out
View full details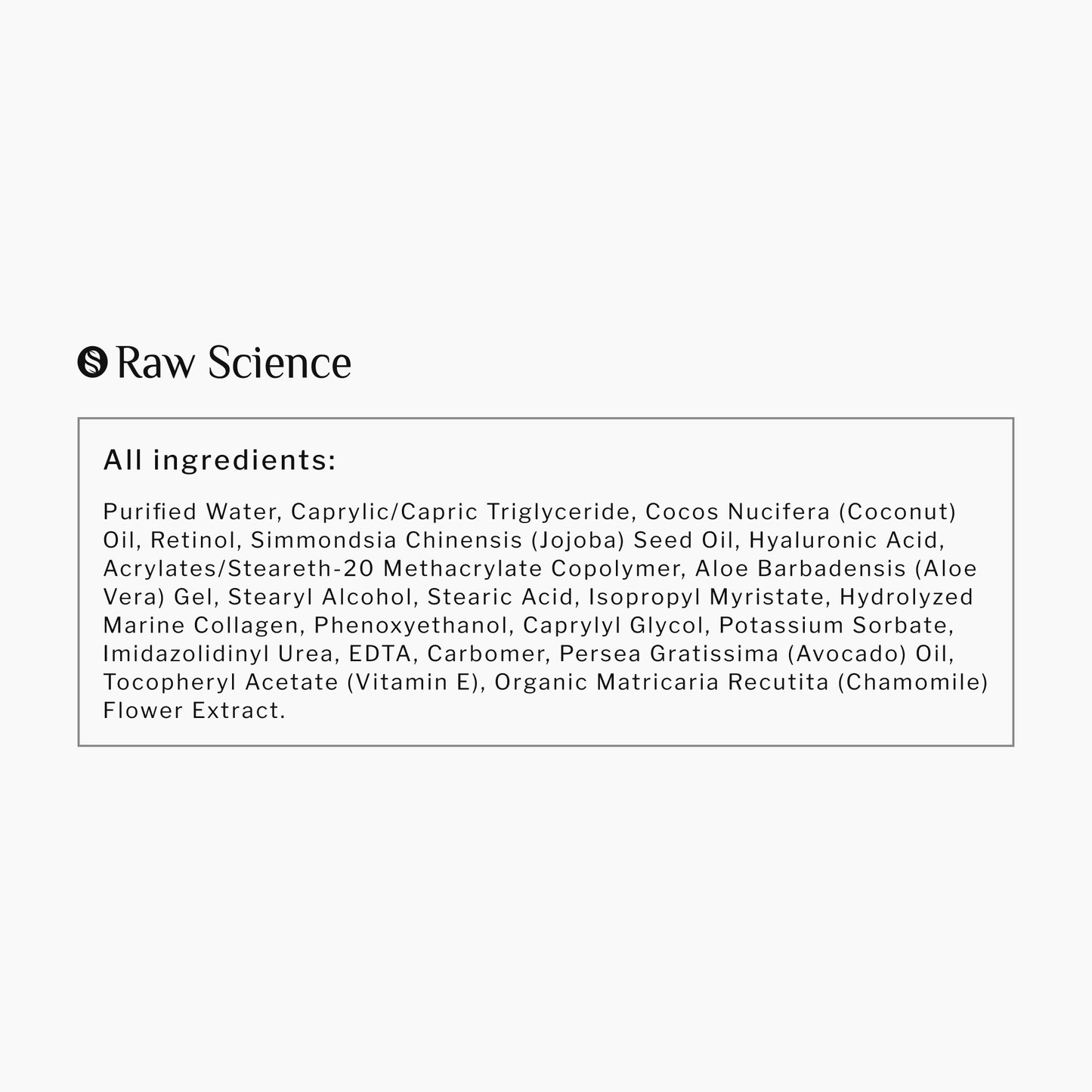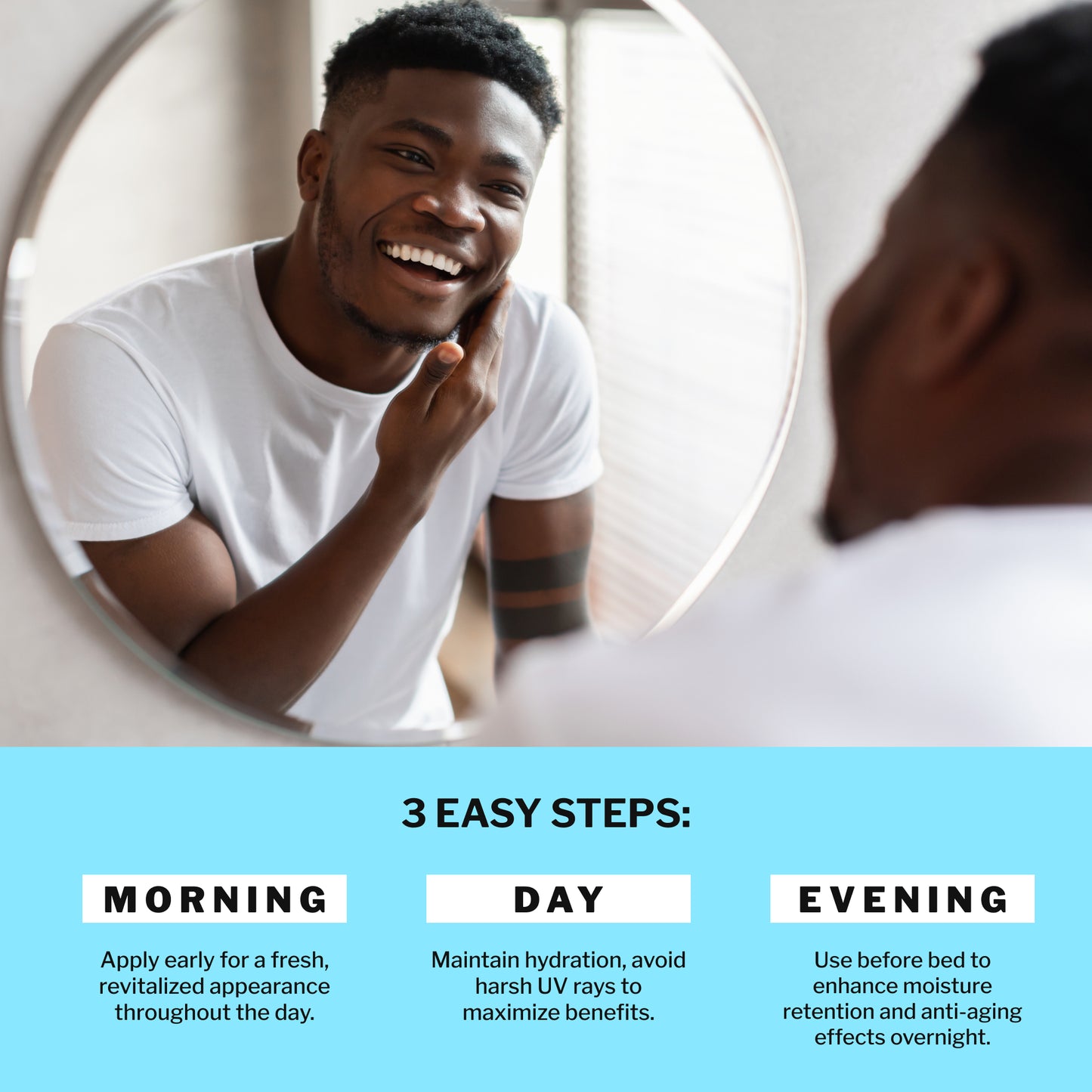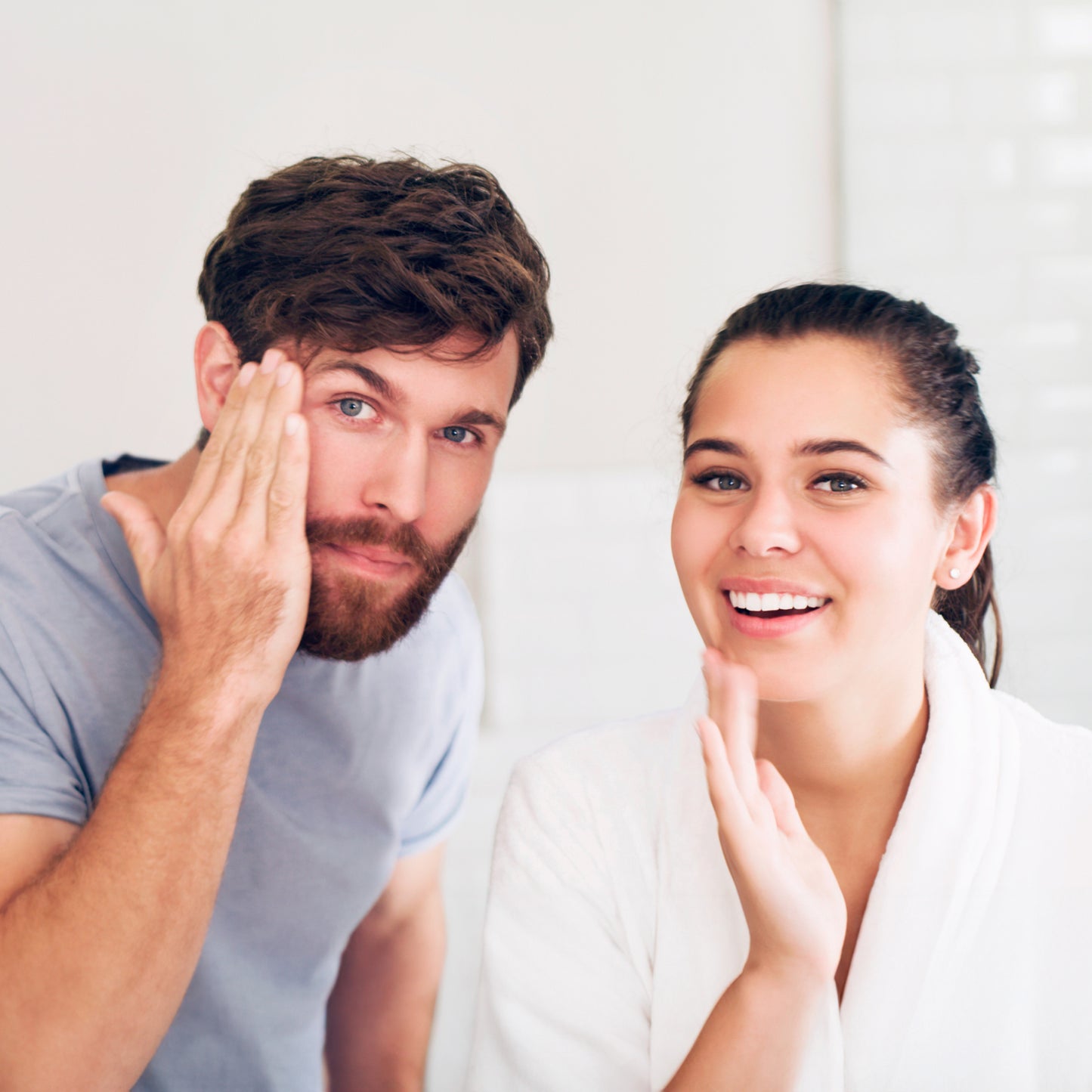 Best time to take
Use in the morning and at night for best results.
Supplement Facts
| | |
| --- | --- |
| Active Ingredients | Purified Water, Propylene Glycol, Glycerin, Cyclopentasiloxane, Isopropyl Myristate, Stearyl Alcohol, Glyceryl Stearate, PEG-100 Stearate, Dimethyl MEA, Porphyridium Cruentum (Red Algae) Extract, Hydrolyzed Marine Collagen, Silanetriol, Polysorbate 20, Glutamylamidoethyl Imidazole, Fructooligosaccharides, Sodium Hyaluronate, Palmitoyl Oligopeptide, Palmitoyl |
| Type | Cosmetic |
| Form | Cream |
| Flavor | Unscented |
| Color | White |
| Size | 1.7 Oz |
| Special Diet | Cruelty-Free |
Hydrolyzed Marine Collagen
Hydrolyzed Marine Collagen is derived from marine sources, offering potential benefits for skin health. Renowned in scientific circles for its potential to support skin elasticity and hydration, this ingredient may be instrumental in maintaining a youthful complexion.
Hyaluronic acid is known in scientific circles for its unique ability to retain moisture. Acting as a natural hydrating agent, it aids in maintaining skin hydration levels, potentially resulting in a plumper, smoother complexion. Its role is pivotal for skin's health and suppleness.
Coconut oil, valued by experts, is rich in fatty acids and antioxidants. Recognized for its potential moisturizing and nourishing properties, it can promote skin hydration and barrier strength, ensuring skin feels soft and remains resilient.
Jojoba oil, acknowledged by specialists, closely mimics the skin's natural sebum. Its potential in maintaining balanced hydration and supporting the skin's barrier function is noteworthy. As a result, it can contribute to a smooth, hydrated complexion without feeling greasy.
Aloe vera, recognized by experts, offers a wealth of skin benefits. Known for its soothing properties, it can help calm irritated skin and enhance hydration. Additionally, its antioxidants potentially combat environmental stressors, supporting skin's overall health and radiance.
Retinol is esteemed by scientists for its potential benefits in skin health. As a derivative of Vitamin A, it supports skin cell turnover and collagen production, potentially aiding in reducing visible signs of aging and enhancing skin's overall texture and tone.
Avocado Oil, appreciated by experts for its skin-friendly properties, is rich in essential fatty acids and vitamins. Renowned for its potential moisturizing abilities, it can aid in enhancing skin's hydration, suppleness, and overall health, making it a sought-after ingredient in skincare.
Vitamins E & A are scientifically recognized for their role in skin health. Vitamin E acts as an antioxidant, potentially defending the skin from environmental stressors, while Vitamin A supports skin cell renewal. Together, they may contribute to healthier, resilient skin.
Unveiling men's skin science secret with men's cream
Experience the art of skin rejuvenation with Raw Science Men's Facial Cream. Dive into deep hydration, embrace the flow of vital nutrients, and witness a subtle combat against tell-tale aging signs. Crafted for the modern man, it's skincare redefined without compromise.
At Raw Science we believe that nature can be both gracious and cruel to a human body. Through the means of cutting edge science and research we deliver the best the nature...
Raw Science runs an educational Youtube channel where certified dermatologists and nutritionists cover various topics on your health and beauty.