Calm sleep tablets for revitalizing rest and stress mitigation, supporting skin radiance.
Restful sleep

Reduced stress

Skin support
Regular price
Sale price
$21.95
Unit price
per
Sale
Sold out
View full details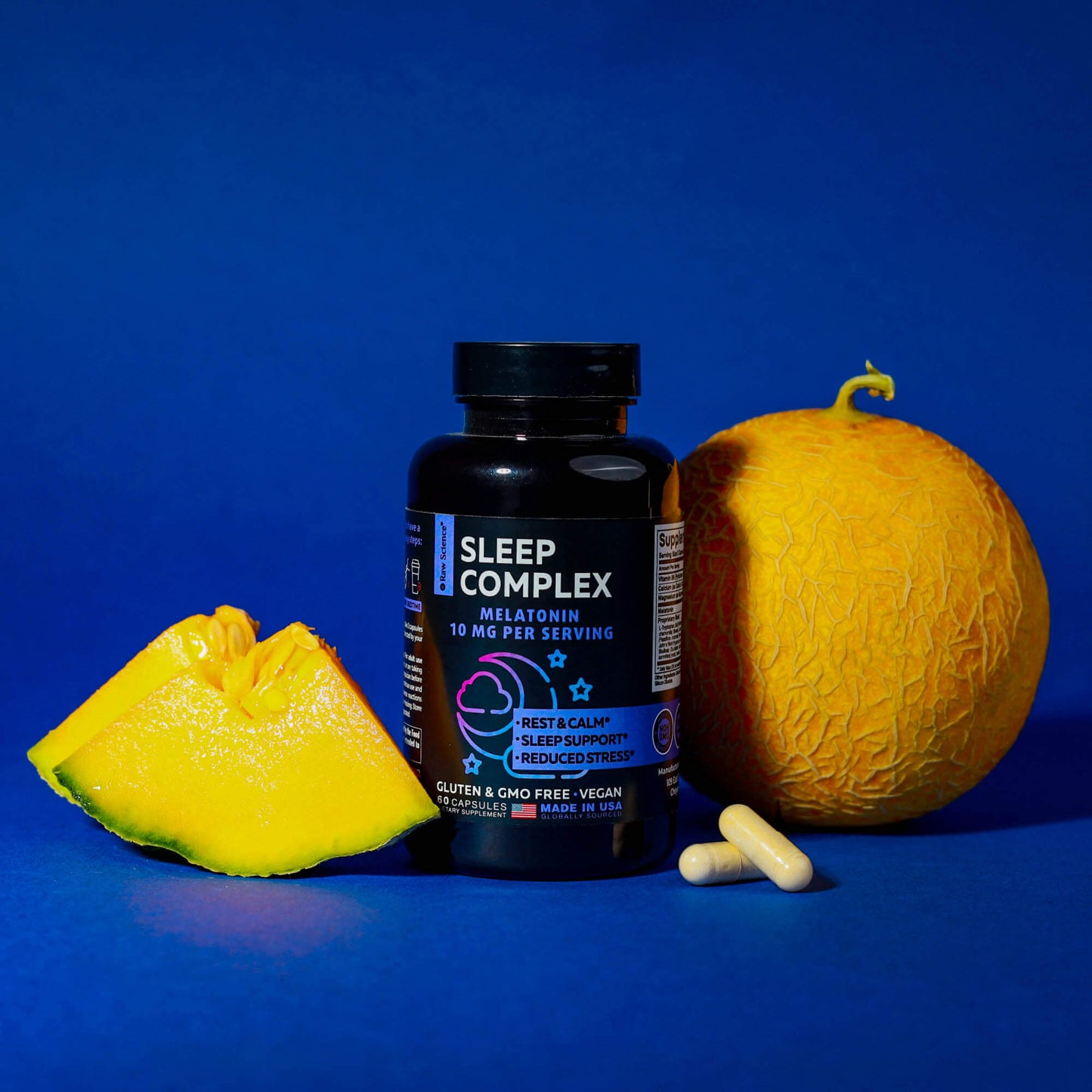 Price per day serving
$0.73 per day serving
Supplement Facts
| | |
| --- | --- |
| Active Ingredients | Melatonin - 10 mg, Vitamin B6 (Pyridoxin HCl) - 1.8 mg, Calcium (Calcium Carbonate) - 17 mg, Magnesium (Magnesium Citrate) - 13 mg, Proprietary Blend - 905 mg ( L-Tryptophan, Goji, Chamomile, Lemon Balm, Passion Flower, L-Taurine, Hops, St. John's Wort, GABA, Skullcap, L-Theanine, Ashwagandha, Inositol, 5-HTP) |
| Type | Vitamins & Supplements |
| Form | Capsule |
| Flavor | Unflavored |
| Color | Neutral |
| Size | 60 count |
| Special Diet | Cruelty-Free, Vegan |
Melatonin is a hormone naturally produced in the body, instrumental in regulating sleep-wake cycles. Its supplementation supports a restful, uninterrupted sleep.
Vitamin B6 (Pyridoxine HCl) contributes to brain health, supporting neurotransmitter synthesis. It assists in melatonin production, promoting peaceful sleep.
Ashwagandha, a renowned adaptogen, aids in stress reduction and relaxation, contributing to a sound sleep by supporting the body's natural sleep rhythms.
Magnesium Citrate, an essential mineral, promotes muscle relaxation and helps maintain healthy sleep patterns, aiding in a peaceful night's rest.
L-Tryptophan, an essential amino acid, supports serotonin production, contributing to mood regulation and a more restful sleep experience.
GABA, a naturally occurring amino acid, promotes tranquility and relaxation in the brain, assisting in sleep regulation and stress management.
Chamomile, renowned for its soothing properties, fosters relaxation and eases stress, contributing to a restful and quality sleep.
Lemon Balm is cherished for its calming attributes, helping to reduce restlessness and induce tranquility, supporting a serene and restful sleep cycle.
Passion Flower, a celebrated herb, is known for its ability to promote calmness and relaxation, aiding in combating sleep disturbances and restlessness.
Sleep aid tablets for nightly calmness
Experience tranquility and slumber with these meticulously crafted tablets, designed to support sleep and reduce stress. Ideal for those seeking restful nights and serenity.
Raw Science User Reviews
FAQ
How often can I take Sleep Tablets?
Sleep Tablets are designed to be taken daily, with a suggested use of 2 capsules, 20-30 minutes before bedtime.
Why does it contain so many ingredients besides melatonin?
Apart from Melatonin, the Raw Science Sleep Complex Tablets contain a proprietary blend of other natural substances that are known for their calming and sleep-promoting properties. These ingredients include L-Tryptophan, Chamomile, Lemon Balm, Passion Flower, Hops, etc. Each ingredient contributes to creating a holistic sleep support solution by helping reduce stress, promote relaxation, and regulate the sleep-wake cycle. When combined with Melatonin, these ingredients work synergistically to help you fall asleep faster, improve the quality of your sleep, and help you wake up feeling refreshed.
What type of magnesium is used in Sleep Tablets?
In Raw Science Sleep Complex Tablets, the form of magnesium used is Magnesium Citrate. Magnesium citrate is a commonly used form of magnesium in dietary supplements because it is more easily absorbed by the body compared to other forms. It can also have a calming effect on the brain, which may aid in improving sleep quality.
Does this product contain allergic ingredients?
The Raw Science Sleep Complex Tablets contains a blend of ingredients, some of which are derived from plants. While these ingredients are generally considered safe, individuals with allergies to any of the specific components may experience allergic reactions.
How many servings in a bottle, or how long does it last?
There are 30 servings/doses per bottle (2 capsules each time). The bottle will last 30 days.
At Raw Science we believe that nature can be both gracious and cruel to a human body. Through the means of cutting edge science and research we deliver the best the nature...
Raw Science runs an educational Youtube channel where certified dermatologists and nutritionists cover various topics on your health and beauty.