A holistic approach to support both joint and kidney wellness.
Balances uric acid
Aids urinary health
Joint support
Regular price
Sale price
$19.89
Unit price
per
Sale
Sold out
View full details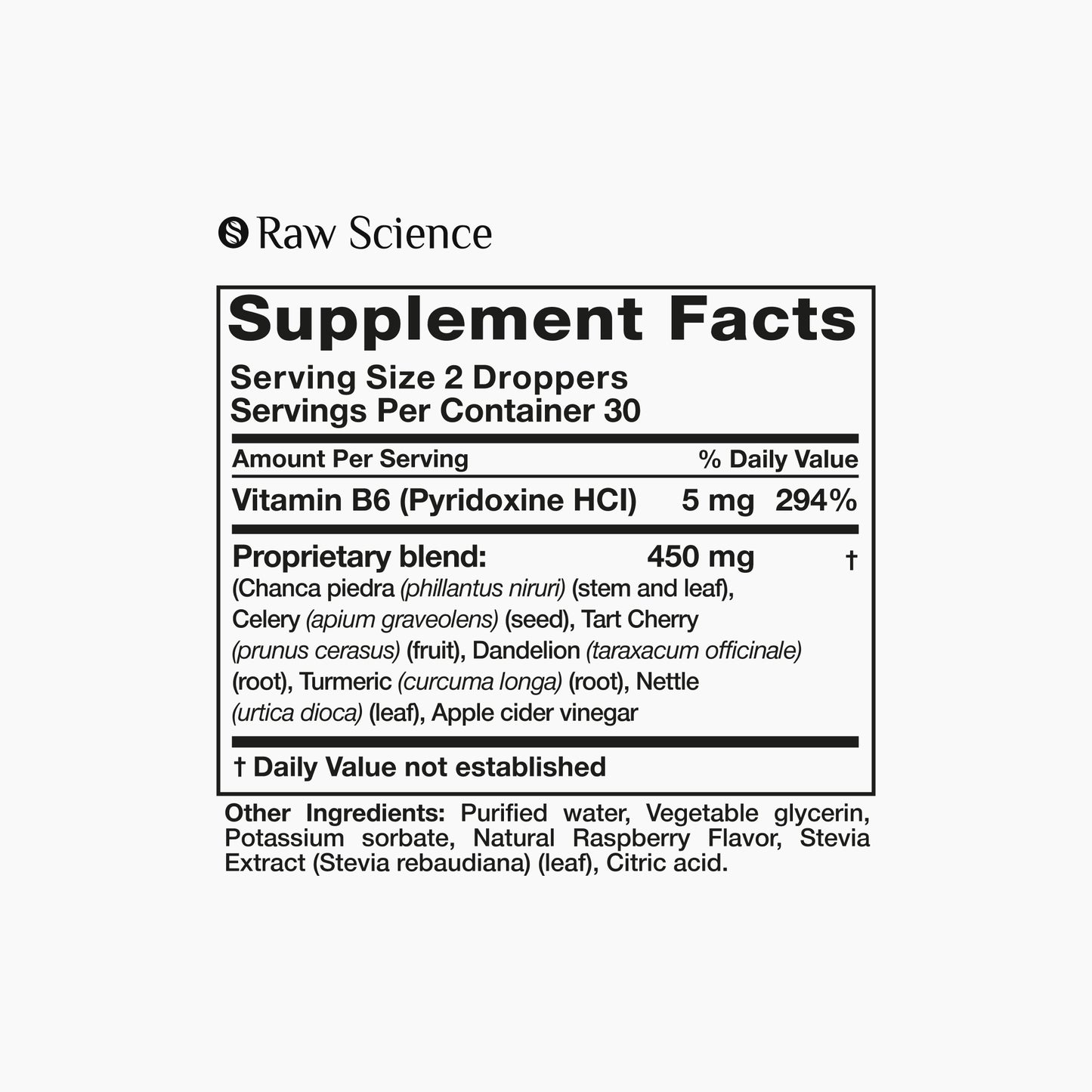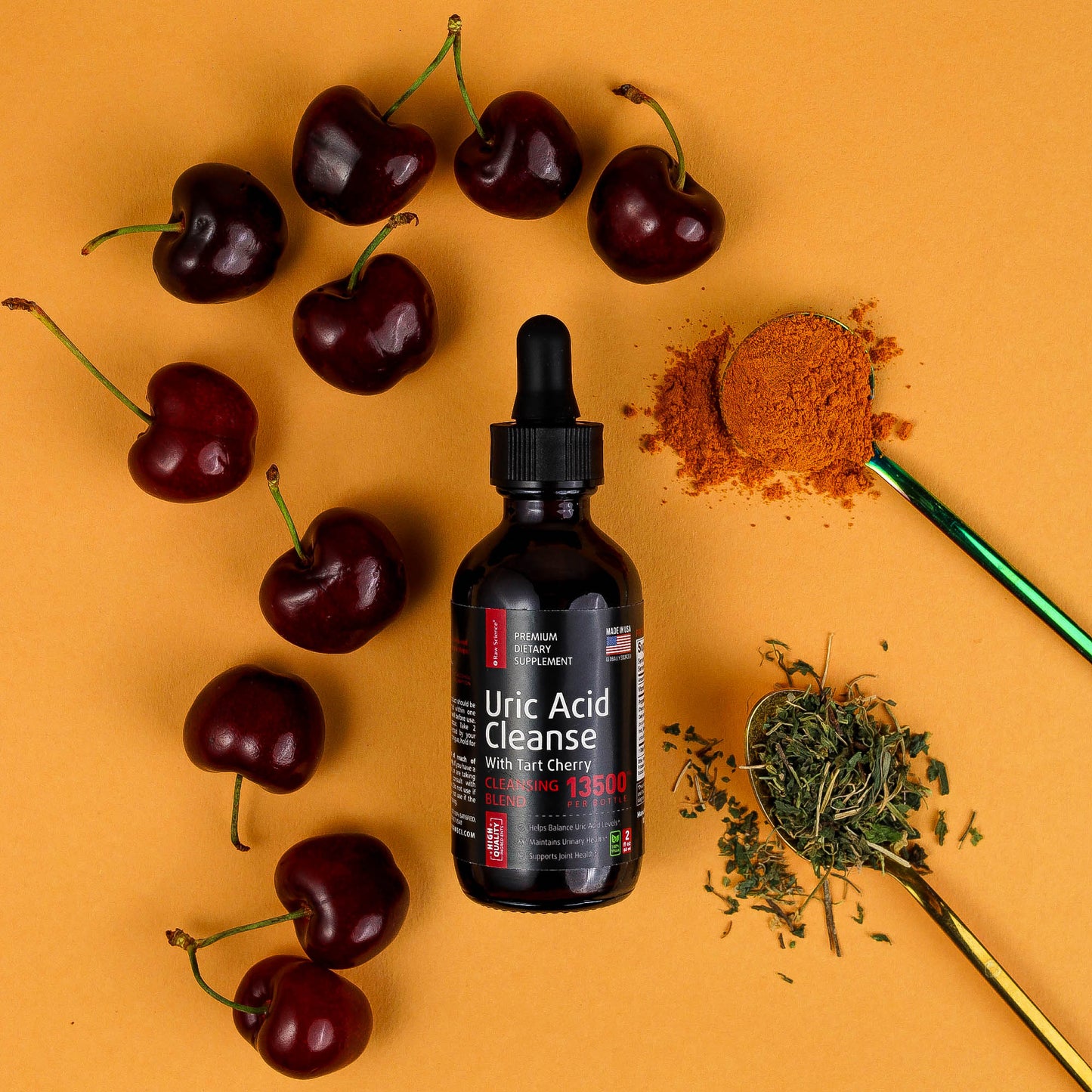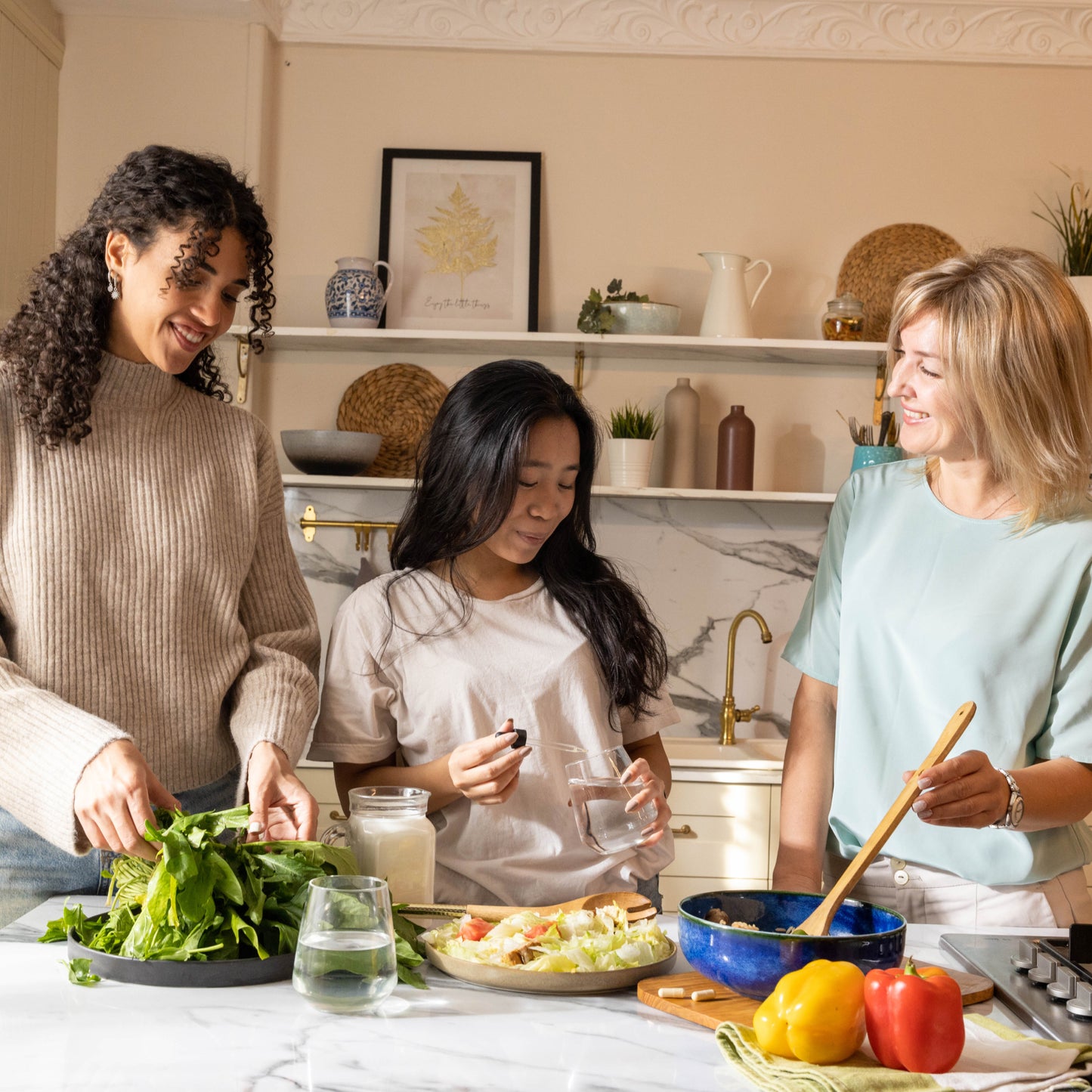 Price per day serving
$0.66 per day serving
Supplement Facts
| | |
| --- | --- |
| Active Ingredients | Vitamin B6 (Pyridoxine HCl) - 5 mg, Proprietary Blend - 450 mg (Chanca piedra, Celery, Tart Cherry, Dandelion, Turmeric, Nettle, Apple cider vinegar) |
| Type | Vitamins & Supplements |
| Form | Liquid |
| Flavor | Raspberry |
| Color | Red |
| Size | 2 fl oz |
| Lifestyle | Vegan |
Vitamin B6 (Pyridoxine HCl) contributes to a well-functioning metabolism and nervous system. Also supports the body's natural ability to balance levels of uric acid, fostering wellness.
Chanca piedra is a plant known for its potent health benefits. It aids urinary wellness, supports the kidney's natural function, and helps regulate uric acid levels in the body.
Celery is a powerhouse of essential nutrients, known for its ability to balance uric acid levels. Additionally, it aids in promoting urinary health and overall wellness.
Tart Cherry is celebrated for its rich antioxidant content, playing a crucial role in managing uric acid levels, and assisting in joint health maintenance.
Dandelion, renowned for its natural diuretic properties, aids in maintaining urinary health while also balancing uric acid levels. It's a key ingredient for anyone seeking to support their joint health.
Turmeric, known for its potent anti-inflammatory benefits, contributes to joint health, helps balance uric acid levels, and assists in maintaining optimal urinary function.
Apple cider vinegar plays a crucial role in maintaining urinary health, supporting joint wellbeing, and contributing to the balance of uric acid levels in the body.
Nettle, renowned for its diverse medicinal properties, offers significant assistance in maintaining urinary health, managing uric acid levels, and supporting joint wellness.
Kidney cleanse: uric acid balance aid
With the power of nature in Tart Cherry, our supplement aims to maintain balanced uric acid levels, uphold urinary health and support joint wellbeing. Experience a balanced approach to your health routine.
Raw Science User Reviews
FAQ
Does the product need to be refrigerated?
Yes, the Raw Science Uric Acid Drops should be refrigerated and consumed within one month of opening.
Is there any added sugar in the Raw Science Uric Acid drops?
No added sugar is in the Raw Science Uric Acid drops. It is sweetened with Stevia, a herbal, zero-calorie sweetener.
Does this product contain any allergic ingredients?
The product does not list any common allergens as ingredients. However, if you have specific allergies, it's always a good idea to check the ingredient list carefully or consult with your healthcare provider.
How many servings in a bottle, or how long does it last?
There are 30 servings/doses per bottle (2 droppers daily) so the bottle will last 30 days.
At Raw Science we believe that nature can be both gracious and cruel to a human body. Through the means of cutting edge science and research we deliver the best the nature...
Raw Science runs an educational Youtube channel where certified dermatologists and nutritionists cover various topics on your health and beauty.