Emphasis on skin health for a natural, revitalized radiance.
Targets face acne
Natural detox boost
Reduces breakouts
Regular price
Sale price
$25.95
Unit price
per
Sale
Sold out
View full details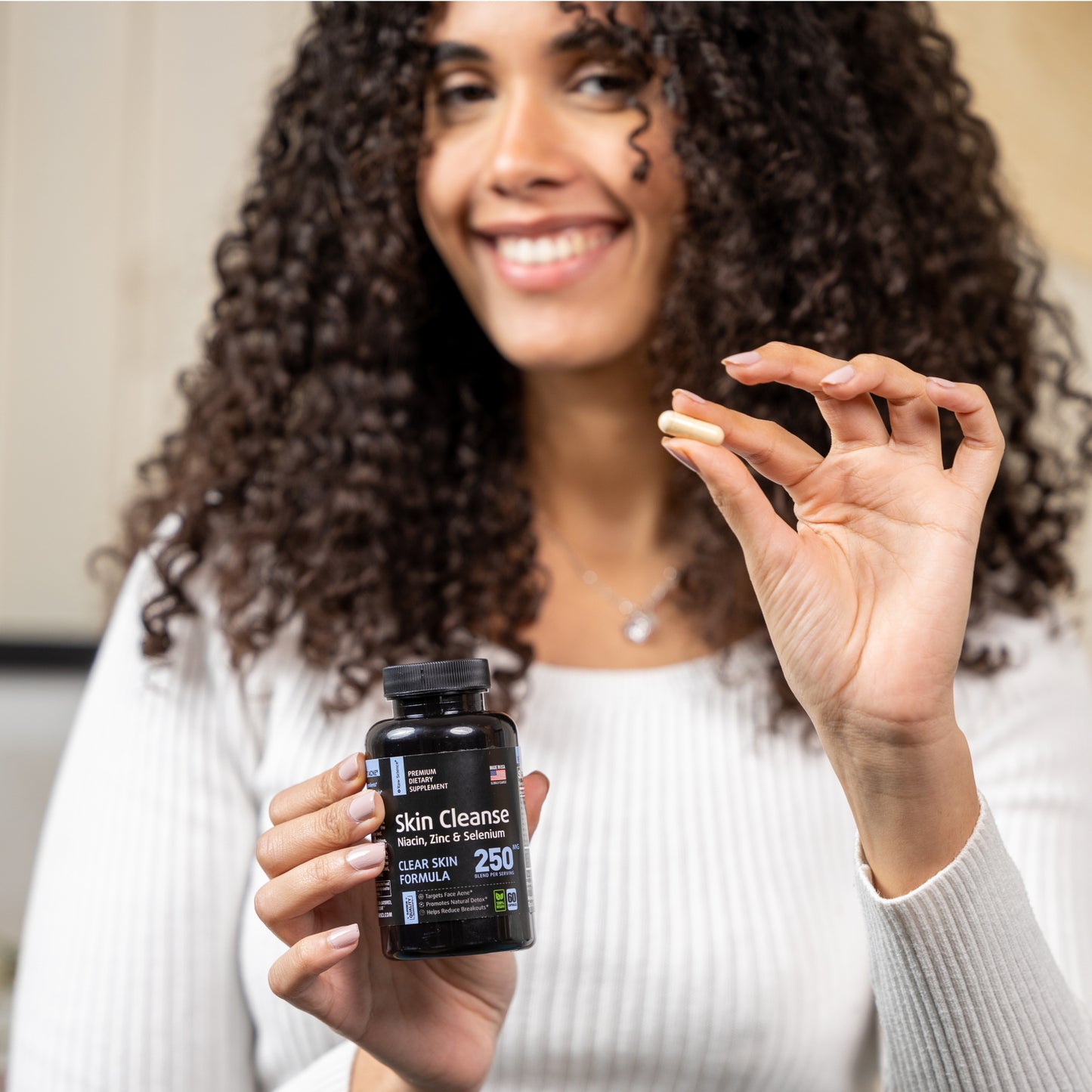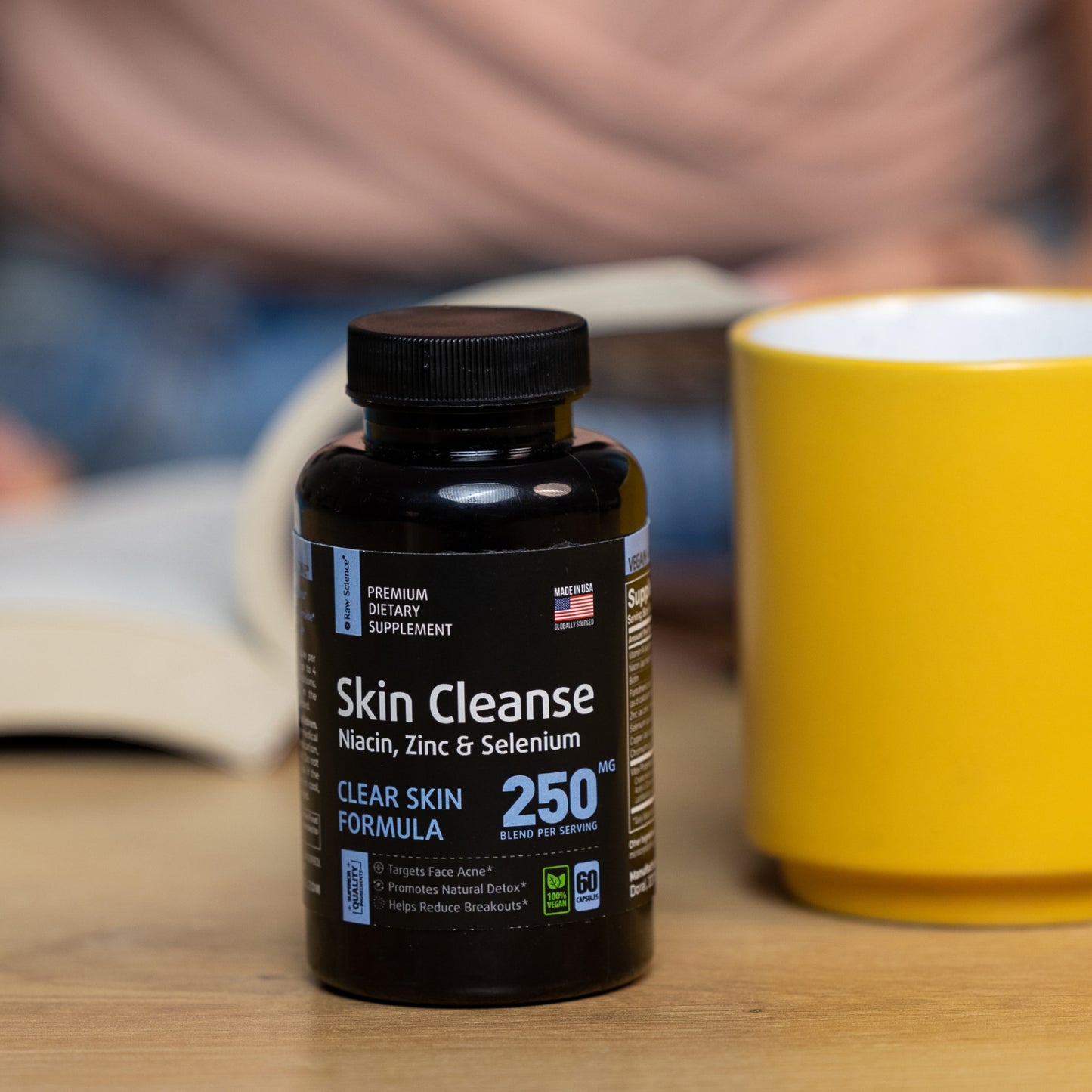 Best time to take
Take 1 capsule in the morning, 1 in the afternoon, 1 in the evening, and 1 before bed.
Price per day serving
$0.43 per day serving
Supplement Facts
| | |
| --- | --- |
| Active Ingredients | Vitamin A - 450 mcg, Niacin - 27.5 mg, Biotin - 150 mcg, Pantothenic acid - 60 mg, Zinc - 11 mg, Selenium - 100mcg, Copper - 0.9 mg, Chromium - 70 mcg, Vitex Proprietary Blend - 250 mg (Chaste tree berry extract, L-Cysteine-HCl, Acetyl L-Carnitine HCl, Black Pepper Extract,Saw Palmetto Extract) |
| Type | Vitamins & Supplements |
| Form | Capsule |
| Flavor | Unflavored |
| Color | Neutral |
| Size | 60 count |
| Special Diet | Cruelty-Free, Vegan |
Vitamin A is a key player in skin health, known to reduce breakouts and support skin regeneration. It aids in creating smooth, rejuvenated skin.
Niacin, or vitamin B3, contributes to maintaining healthy skin. It supports skin barrier function and helps to manage inflammatory skin conditions.
Biotin, also known as Vitamin B7, plays a vital role in skin health. It helps to maintain a clear complexion and improve skin hydration.
Pantothenic acid, or vitamin B5, supports skin health. It aids in the regulation of skin barrier function, promoting clear and vibrant skin.
Zinc plays a crucial role in maintaining skin health. Known for its anti-inflammatory properties, it aids in keeping the skin clear and resilient.
Selenium, a powerful antioxidant, assists in protecting the skin from oxidative damage. Its properties aid in maintaining a clear and radiant complexion.
Chromium plays a crucial role in skin health by regulating glucose levels, thus aiding in maintaining balanced skin and reducing breakouts.
Copper, an essential trace mineral, contributes to skin health by promoting the synthesis of collagen and elastin, maintaining skin's elasticity.
Vitex Proprietary Blend, combining Chaste tree berry extract and key amino acids like L-Cysteine-HCl, Acetyl L-Carnitine HCl, along with Black Pepper and Saw Palmetto Extract, aims to support skin health. It's designed to aid in the management of skin impurities, potentially improving skin's overall clarity and texture.
Clear skin pill: acne's natural foe
Experience a skin transformation. Our supplement may target facial acne, promote natural detox processes and help reduce breakouts, paving the path for a clear, healthy and confident complexion.
Raw Science User Reviews
FAQ
Who should take Clear Skin Supplement?
The Clear Skin Supplement can be taken by individuals who are looking to improve their skin health, complexion, and overall dermal vitality. It may be particularly beneficial for those dealing with acne and other similar skin conditions.
Does this product contain any allergic ingredients?
The product does not list any common allergens in its ingredients, and it is also labeled as vegan and cruelty-free.
How many servings in a bottle, or how long does it last?
There are 60 servings/doses per bottle (1 capsule each time). The bottle will last from 15 days up to 60 days depending on the acne conditions
At Raw Science we believe that nature can be both gracious and cruel to a human body. Through the means of cutting edge science and research we deliver the best the nature...
Raw Science runs an educational Youtube channel where certified dermatologists and nutritionists cover various topics on your health and beauty.