Essential nutrients fused for optimal bone vitality, complemented by the synergy of K2 & D3.
Boosts Bone Density
Enhances Absorption
D3 & K2 Infused
Regular price
Sale price
$21.95
Unit price
per
Sale
Sold out
View full details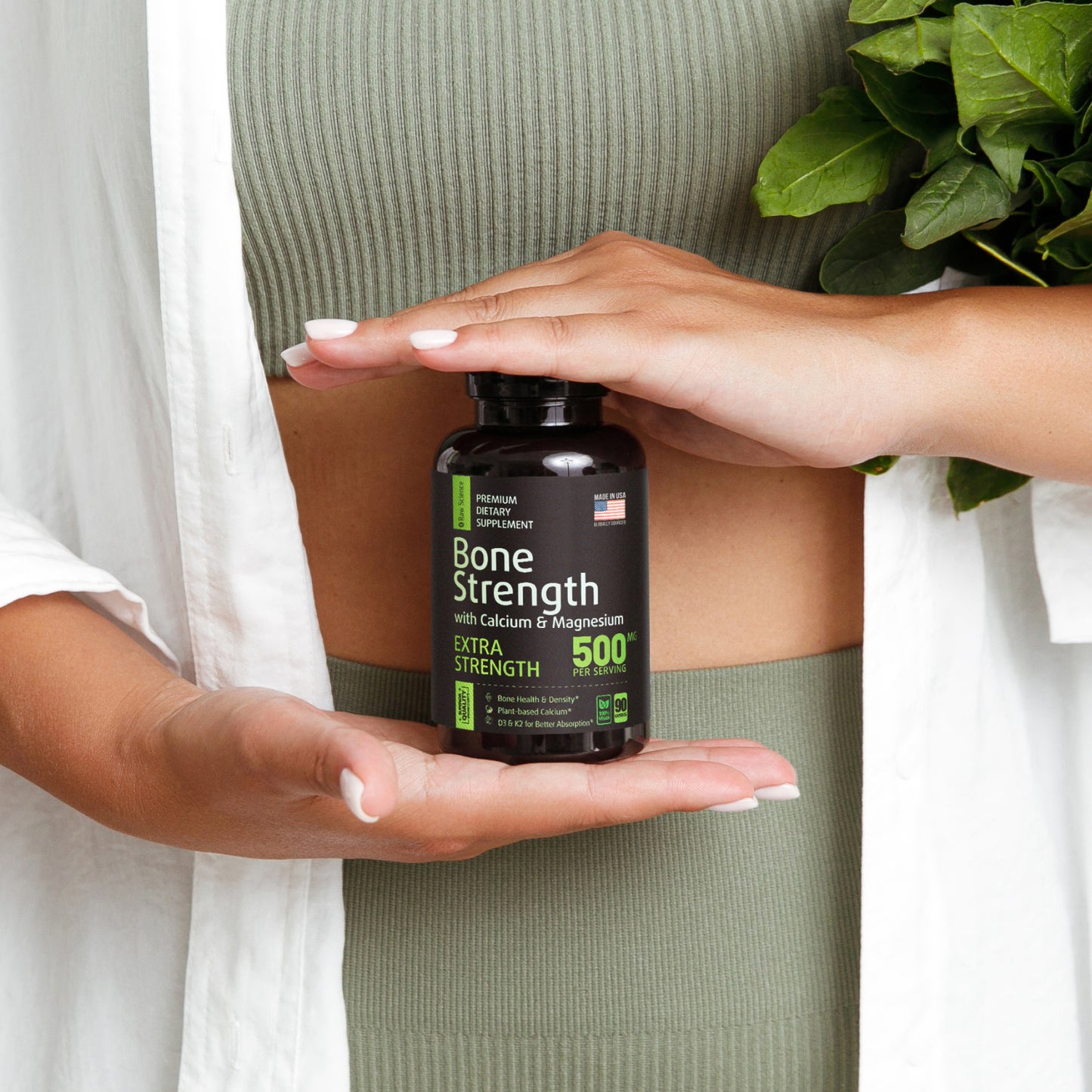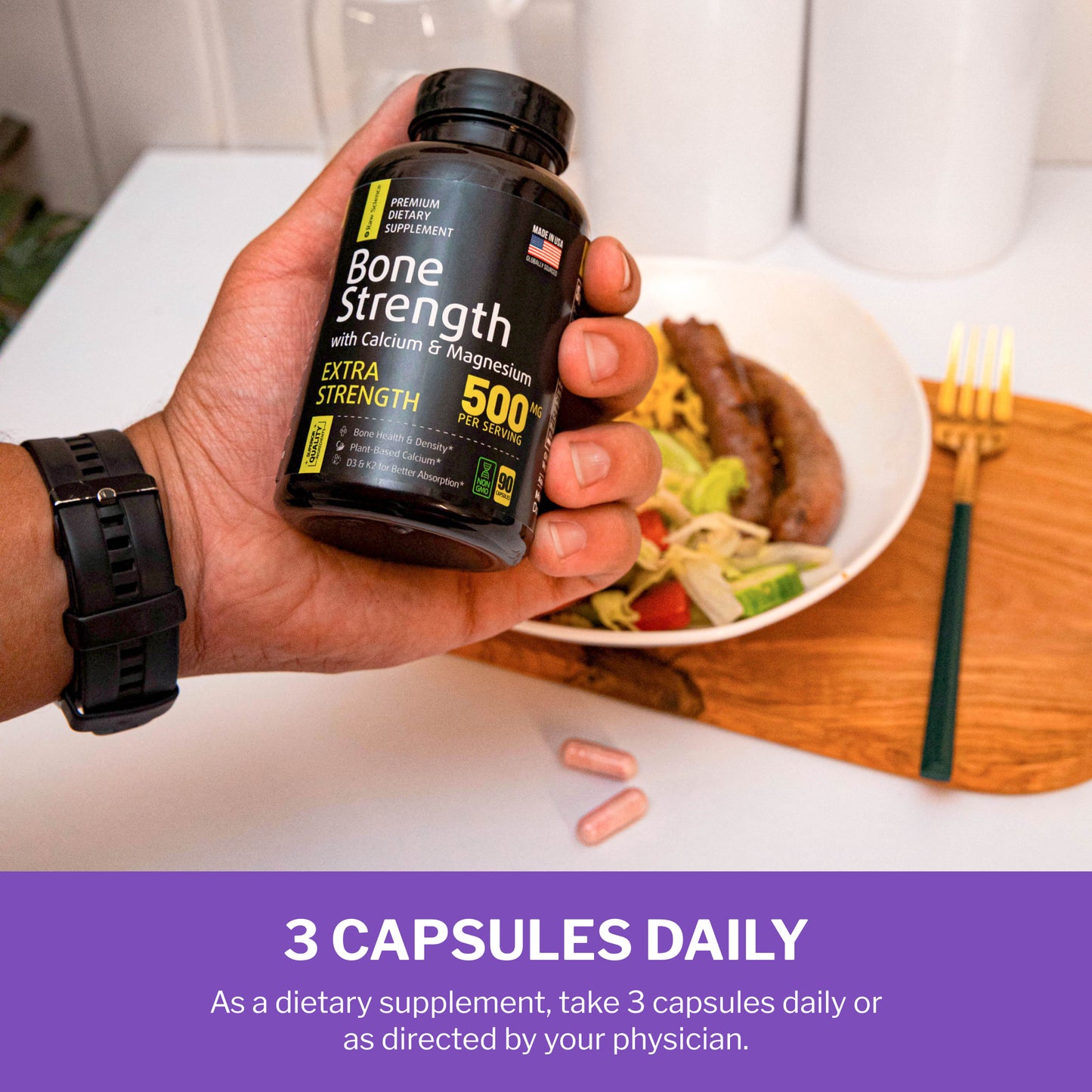 Price per day serving
$0.73 per day serving
Supplement Facts
| | |
| --- | --- |
| Active Ingredients | Vitamin D (as Cholecalciferol) - 25 mcg (1,000 IU), Vitamin K2 (as Menaquinone-4 MK-4) - 45 mcg, Vitamin K2 (as Menaquinone-7 MK-7) - 45 mcg, Calcium (from 1300 mg Aquamin® F (Lithothamnium sp.) (Calcareous Marine Algae)) - 416 mg, Magnesium (from 300 mg Aquamin® TG Sea Minerals) - 99 mg |
| Type | Vitamins & Supplements |
| Form | Capsule |
| Flavor | Unflavored |
| Color | Neutral |
| Size | 90 count |
| Special Diet | Vegan, Allergen-Free |
Vitamin D (as Cholecalciferol), a key element, aids in enhancing calcium absorption, fostering bone health, and supporting muscle function, paving the way for overall well-being.
Vitamin K2 (as Menaquinone-4 MK-4) plays a vital role, directing calcium to bones and teeth where needed, and helps maintain heart health, a crucial part of overall wellness.
Vitamin K2 (as Menaquinone-7 MK-7) is essential for bone health, enhancing calcium absorption to support stronger bones and contributing to cardiovascular wellness.
Calcium (Calcareous Marine Algae) is a plant-based source of calcium, crucial for strong bones and teeth, and may support overall bone density.
Magnesium (Sea Minerals) is vital for bone health, assisting in calcium absorption and potentially aiding muscle function and relaxation.
Plant-based calcium for bone strength
Embrace natural bone fortification with this blend of plant-based calcium and vitamins D3 & K2. It may boost bone density and facilitates better nutrient absorption for healthier bones.
Raw Science User Reviews
FAQ
Is it suitable for vegans?
Yes, the Raw Science Bone Strength Supplement is suitable for vegans. The Vitamin D3 in the supplement is vegan and sourced from algae. Additionally, the capsules are made from vegetable cellulose, which is an all-natural and easily absorbed material. The other ingredients like vitamins K2, calcium, and magnesium are also sourced from plants and minerals, making this supplement entirely vegan-friendly.
Does this product contain any allergic ingredients?
The listed ingredients for the Bone Strength Supplement are generally considered safe; it's possible for individuals to have allergies or sensitivities to any substance.
How many servings in a bottle, or how long does it last?
There are 30 servings/doses per bottle (one serving per day) so the bottle will last 30 days.
At Raw Science we believe that nature can be both gracious and cruel to a human body. Through the means of cutting edge science and research we deliver the best the nature...
Raw Science runs an educational Youtube channel where certified dermatologists and nutritionists cover various topics on your health and beauty.