Incorporate L Arginine & L Citrulline; recognized for heart considerations.
Energy amplifier
Fitness ally
Heart booster
Regular price
Sale price
$27.95
Unit price
per
Sale
Sold out
View full details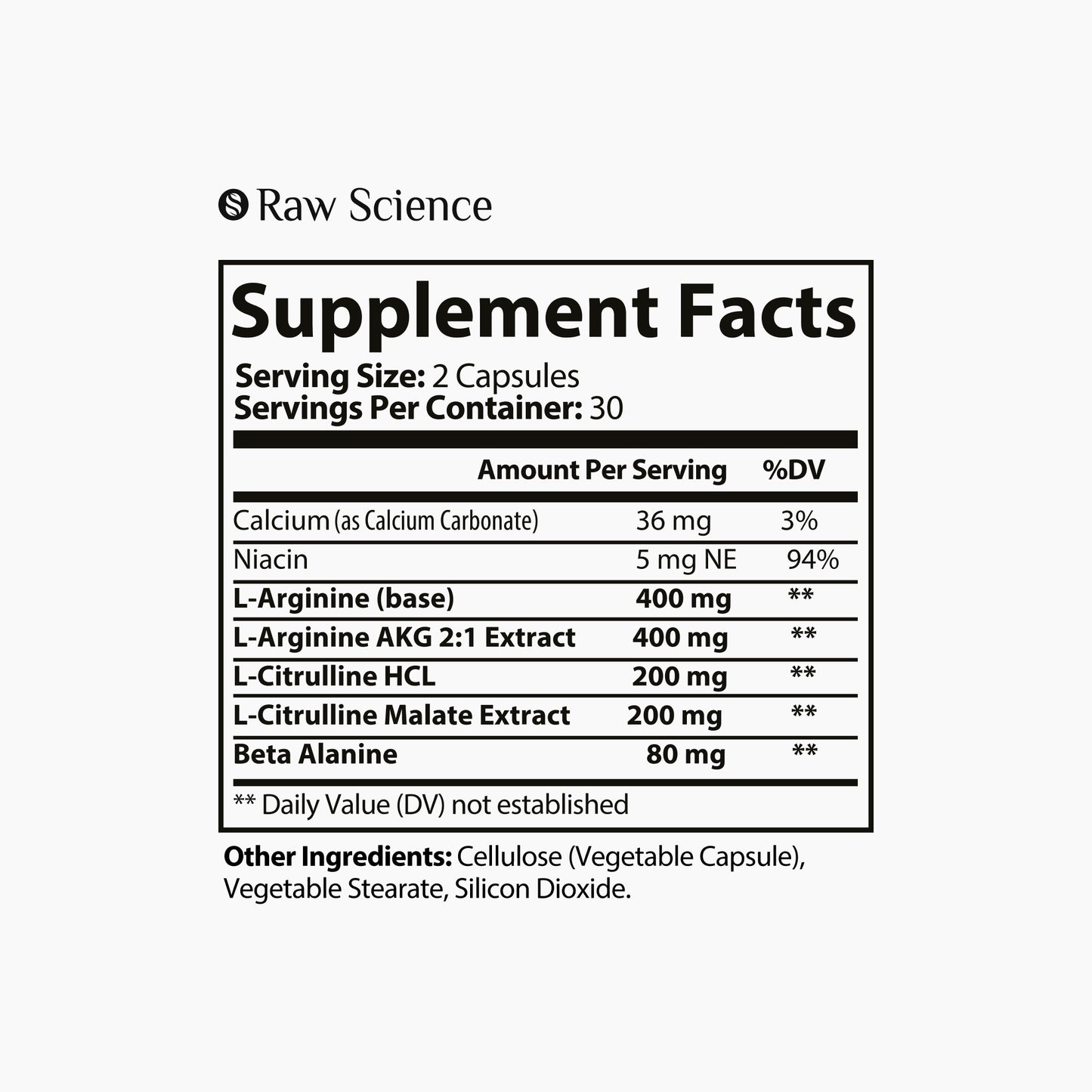 Price per day serving
$0.93 per day serving
Supplement Facts
| | |
| --- | --- |
| Active Ingredients | L-Arginine AKG - 400 mg, L-Arginine (base) - 400 mg, L Citrulline Malate - 200 mg, L Citrulline HCL - 200 mg, Beta Alanine - 80 mg, Niacin - 5 mg, Calcium Carbonate - 36 mg |
| Type | Vitamins & Supplements |
| Form | Capsule |
| Flavor | Unflavored |
| Color | Neutral |
| Size | 90 count |
| Special Diet | Vegan, Allergen-Free |
Promotes cardiovascular health, supporting optimal blood flow. This amino acid may also aid exercise endurance and muscle recovery, contributing to overall fitness and well-being.
L-Arginine (base) is a vital amino acid that supports cardiovascular health by promoting optimal blood flow. It also helps stimulate protein synthesis and may aid in exercise endurance and muscle recovery.
L-Citrulline Malate boosts nitric oxide production, improving blood flow and oxygen delivery to muscles. It also enhances exercise performance, aids recovery, and supports cardiovascular health.
L-Citrulline HCL works to enhance nitric oxide production, crucial for blood vessel dilation. Its inclusion helps to support muscle recovery, boost exercise performance, and promote cardiovascular health.
Beta Alanine is an amino acid that aids in reducing muscle fatigue. This component improves exercise capacity, allowing for prolonged and more intense workouts, supporting athletic performance.
Niacin, a form of Vitamin B3, assists in widening blood vessels, promoting improved circulation, and supporting overall cardiovascular health.
Calcium Carbonate presence promotes heart health, supports blood vessel dilation, and aids in proper muscle function.
L-arginine extra strength for vitality
Enhance your day-to-day vitality with our potent blend. This L-Arginine formulation is aimed at energy elevation, fitness endorsement and heart function assistance, supporting your wellness journey.
Raw Science User Reviews
FAQ
Who should take Raw Science L-Arginine Extra Strength?
Raw Science L-Arginine Extra Strength can benefit people looking to support their cardiovascular health, athletes or fitness enthusiasts looking to support muscle growth and recovery, and individuals interested in boosting their overall vitality.
Is Raw Science's L-Arginine capsules for both men and women or just men?
Raw Science's L-Arginine is an essential amino acid beneficial to both men and women.
How many servings in a bottle, or how long does raw Science L-Arginine last?
There are 30 servings/doses per bottle (one serving per day) so the bottle will last 30 days.
Does this product contain caffeine?
Raw Science's L-Arginine capsules do not contain caffeine.
At Raw Science we believe that nature can be both gracious and cruel to a human body. Through the means of cutting edge science and research we deliver the best the nature...
Raw Science runs an educational Youtube channel where certified dermatologists and nutritionists cover various topics on your health and beauty.